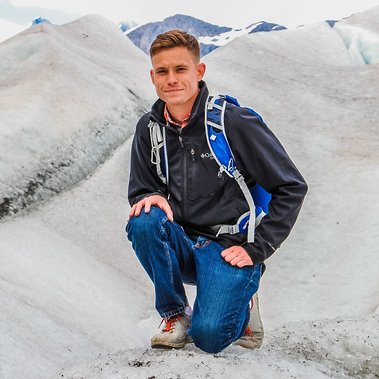 Brian Doyle is a Minnesota-based expedition guide and conservation photographer specializing in ecotourism and wildlife photography. From hiking to zodiac cruising to free diving, Brian provides guests with environmental and photography education in some of the world's remotest locations. These expeditions aim to stimulate conversation and promote environmental literacy to help shape how people understand, interact with, and interpret the world we live in. Complementary to his expeditions, Brian's visually- captivating images freeze the movement of time with a time-blending influence.
"Time is the best storyteller." — Brian Doyle
Certifications & Memberships
"We had the best experience on our EcoTour and I really want to share why you should book a tour with them if you are thinking about it. We did the full day wildlife tour in the Tetons. We started out at 6am and our meet up spot was right next to our hotel. Our first stop we were offered tea, coffee (which was really good), muffins, granola bars, etc. All were from local businesses. We saw two coyotes at our very first stop! The spotting scopes our guides brought let us see wildlife very clear! We continued the day seeing so much wildlife, moose, elk, eagles, frogs, bison and the highlight for me was grizzly 399 and her cubs! At one point we took a short hike to learn about different wildlife tracks, birds, and plants and trees. Our guides, Laura (10 year ecotour veteran) and Brian (guide and photographer) were awesome! Kind, funny, and knowledgeable. They gave us so many tips on where to hike and things to see for the rest of our vacation too. We stopped for a lovely picnic lunch (food from a local place called Picnic). It was delicious and relaxing. We enjoyed chatting with Laura and Brian so much. We ended our day with some bison spotting and peeking our heads out of the EcoTour van roof to enjoy the bison! Laura captured so many great photos and videos that she shared with us after our tour. We just had the best time and I hope this helps anyone who is looking for a great educational wildlife experience!"
— TripAdvisor (Jackson Hole Eco tour Adventures)
"I highly recommend the private tour option. We did a full day (literally, 12 hours) Yellowstone trip and it was absolutely everything you could hope for. In addition to myself, I had my 78-year old mother, and 11 and 14 year-old sons. From the early morning start, we were pampered with French Press coffee freshly made in the super comfy van, juice, bakery muffins, and more. Our guide, Brian D, was the penultimate professional, keeping us comfortable and safe while efficiently whisking us to a full day of sights, short hikes, the "must-see" attractions, and some photography lessons mixed in with it all. With perfect timing we saw a ton, never waited in a line, avoided crowds to maximize every minute of our experience. His most impressive feat was keeping my boys entertained and 100% engaged all day with stories and an amazing depth of knowledge and humor, while still accommodating my mom's preferences and energy level. Strong magic to get that done, trust me. He even secured a picnic table and served us a gourmet lunch complete with tablecloth."
— TripAdvisor (Jackson Hole Eco tour Adventures)
"We went on the Whale Watching and Mendenhall Glacier Photo Safari. Not only is Brian personable, smart, knowledgeable about everything (it seems!!), but his expertise in photography made all the difference in the rest of our week. He looked at each camera of the 12 people on this excursion and showed us the best settings to give us the best pictures. We were exceptionally blessed that day to see whales with a baby, see their tails (fluke), see them jump out of the water (breach)..........lots of whales. This shouldn't be expected every outing because no one can predict if/when the whales will be present, but Capt. Jim did a superb job of finding them for us..........as well as seals. There were lots of eagles at the marina. The boat just held about 12-15 people so it was a nice size group, allowing everyone to be able to see and take pictures. Their goal was to maximize the experience of their passengers. After we left the boat, we traveled by bus to the Glacier. Brian led us through part of the rainforest, showed us how to take pictures that we didn't think possible, educated us about the rainforest, and then led us to a viewing spot for the Glacier. It was the best tour of our visit to Alaska."
— TripAdvisor (Gastineau Guiding)
"My family did a whale watching tour with this company. Our captain was Robert and our tour guide was Brian Doyle. We could not have had a better experience! Robert looked and found 7 whales, including a cow and her calf. Brian was extrememely knowledgeable and made this tour so much fun!. He was a perfect tour guide! Bring along binoculars (although we were so busy watching and taking pictures we didnt use them much). The boat has large windows that Brian would open for better pictures and then close when we drove fast, so we never got cold. I recommend this tour!"
— TripAdvisor (Gastineau Guiding)
"On our first visit to Juneau we took the tour due to the description. However, the tour turned out to be a lot more - it was excellent and well worth the cost. Brian Doyle, our guide, was an excellent teacher and worked well with everyone on the tour. I felt like I was back in the classroom learning DSLR, but Brian put everything into perspective and was very good with everyone - including two younger kids who he actively engaged in the tour. A definite highlight of our first trip to Alaska."
— TripAdvisor (Seabourn Cruises)
"4 of us recently took the whale watching - Mendenhall Glacier photo tour. It was amazing! Our guide Brian Doyle made the trip educational, fun and exciting. We actually learned some really good techniques for taking better pictures and we are not photo people. We had our iPhones as our cameras. Brian has some great experiences and shared a lot of knowledge. He was enthusiastic and definitely loves what he does! Brian, your mom should be very proud!"
— TripAdvisor (Seabourn Cruises)